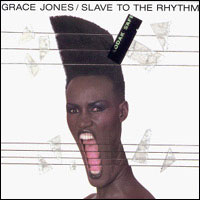 Agenda Bender posts a righteous tribute to that unique 80s classic, the mother of all remix albums, Grace Jones's Slave to the Rhythm.
It's easy to forget what pop music was like in 1985. Punk had long since killed off AOR, only to choke on its own vomit (or maybe someone else's vomit; the inquest was never clear). The huge albums of the year were the Miami Vice soundtrack, Brothers in Arms by Dire Straits and No Jacket Required by that short bald guy who used to be in Genesis. The critical favorites were mopey bands like Hsker D, Sonic Youth and R.E.M. before they learned to play their instruments. And then along come Trevor Horn and Steve Lipson, with beats, and crystalline production on which you can hear the triangle on the 64th track, and trancy spoken-word raps like, "Rhythm is both the song's manacle and its demonic charge…it is the original breath, it is the whisper of unremitting demand…" And you don't have to be gay to appreciate, "That night, [Grace] was singing her hit song, 'I Need a Man,' to a room full of shrieking gay bobby soxers…the ambiguity was that she herself looked like a man…a man, singing 'I need a man,' to a bunch of men."
Horn and Lipson made many memorable records on their imprint, Zang Tuum Tumb Records, even better ones, like Propaganda's A Secret Wish and Frankie Goes to Hollywood's Liverpool. But Slave to the Rhythm was first and still fabulous.